Skip Navigation
Website Accessibility
Gamer's Inn News - April 5th
April 5th, 2019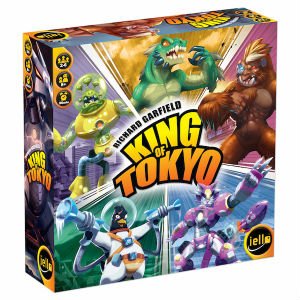 Join us on Tuesday, April 9th at 7:00pm when we demo King of Tokyo!

Play mutant monsters, gigantic robots and other monstrous creatures, rampaging the city and vying for position as the one and only King of Tokyo.
Combine your dice to gather energy, heal your monster or just slap the other monsters down. Spend your energy to trigger permanent or one-shot special powers: a second head, body armor, nova death ray...
Stop at nothing to become the King of Tokyo... but that's when the real trouble begins for you.
Since this is our Game of the Month for April, enjoy an additional 5% discount all month long.

We're kicking off another round of Destiny League that will run Thursdays at 6:15pm starting on Thursday April 11th at 6:15pm.
Come join us and build up your deck throughout the course of the event. B
attle for unique prizes while enjoying a friendly, relaxed tournament. Players will have the opportunity to win some of great prizes including promo cards and tokens, earning points along the way.

There will be a $20 entry fee for this event on the first week that will include 8 boosters. Each additional week, there will be a $4 pack buy in.

D&D Adventure's League


War of the Spark


Employee Game Highlight
D&D Adventures League is starting up again Wednesday April 10th at 7:00pm. We are excited to start up again and look forward to the many Wednesday nights we will have building up our characters and exploring the next adventure.

Adventurers' League is for all! Any skill level is welcome because we will be starting a new campaign this week. We have sign ups in store for those who wish to join our adventurers group.

We welcome any new DM's that would love to join the ranks of our league. Please contact us if interested.

We hope you can join us and learn why we at Gamer's Inn love Adventurers' League.
War of the Spark is coming and the set is looking amazing! Start getting ready for the Prerelease on April 27th.

We will have three Prerelease times to play with this awesome new set starting with our event Saturday at Midnight after our Chaos draft which is on Friday the 26th at 7:30pm. We will also have a Two headed Giant event on Saturday the 27th at 11:30am, followed by a singleton afternoon event at 5:00pm. The set will include a Planeswalker in every pack in your bundle and two foil promo's one being a planeswalker! With all the cards being released and previews coming out this set will add the new static abilities to the Planeswalkers which is going to add some real power to this new amazing set.
Looking for a game the whole family can play?

So was I and I found the perfect game! Its good for any kind of setting and something adults and children can love together. Codenames is a wonderful game where you give your team hints and tell them a number to try to get them to turn over the right tiles. Hit the wrong tile and you might just give the other team your point for guessing wrong. Guess right and quickly win by turning over all your tiles. We have a wonderful version of Codenames for the whole family - Disney Family Codenames! It brings a fun mix to the game bringing all the beloved Disney characters to the game. Anyone can guess your clue because they are beloved characters from your childhood in addition to characters from recent movies. So come check out this wonderful version of Codenames. It is sure not to disappoint.
Friday Night Magic

Manic Monday

Gamer's Inn Events
Come every Friday night for our Magic: the Gathering events. See below for times and formats.

April 5

th, 2019




7:00pm

- Free Modern




7:30pm

- $10

Ravnica Allegiance

Draft

April 12th, 2019


7:00pm

- Challenger Standard Event $2




7:30pm

- $10

Ravnica Allegiance

Draft

April 19th, 2019
7:00pm - Free Modern
7:30pm - $10 Ravnica
Allegiance Draft

April 26

th, 2019




7:00pm

- Free Standard




7:30pm

- $5 Chaos Draft






Join us Monday evenings for Dice Masters events. All events start at 7:00pm unless otherwise posted.



April 8th, 2019


6:30pm - Transformers constructed $8



7:00pm - Modern Dice Masters Constructed $2.00



7:00pm - KeyForge Archon $3.00



April 15th, 2019
7:00pm - KeyForge Sealed

April 22nd, 2019
7:00pm - Modern Dice Masters Constructed $2.00

7:00pm - KeyForge Archon: Bring a Friend -$3.00
Mark your calendars for our upcoming events at Gamer's

Inn

. Each of our Game Night starts at

7:00pm

and are free to participate in.



April 9th

-

7:00pm


King of Tokyo Demo Night

April 12th - 7:00pm


MTG Challenge Deck Night - $3



April 18th -

7:00pm


Paint Night with Caleb Ceran - $35

April 23rd - 7:00pm
King of Tokyo: King of the Inn Challenge Night - $3



Thank you for making this store possible and for your patronage!




Copyright © 2017 Gamer's Inn, All rights reserved.

Contact us:
Website: gamersinnutah.com
Phone: 801-901-3104

Email: innkeeper@gamersinnlehi.com
Our mailing address is:
218 NW State Street, American Fork, UT, 84003