April 19th, 2019
War of the Spark is coming April 27th! Now is the time to signed up is now for one of the most fun ways to play Magic - Prerelease! You are starting out on the same playing field as everyone else building a deck of 40 cards with the 6 packs and 2 promos you get in your Prerelease package. Each package is guaranteed to have at least 7 planeswalkers and who doesn't love planeswalkers? We will start off the our Prerelease fun with a Chaos Draft that starts Friday, April 26th at 7:30pm. Chaos Drafts use packs that we have assembled to create an exciting mix of old and new cards for a unique draft experience. We will be slipping in some higher priced cards from our case collection, so don't miss out on this unique fun way to draft. This event will have a$5.00 entry fee.

Then we will follow up the Chaos Draft with a 12:00am midnight Prerelease Event for the new War of the Spark set. The next Prerelease Event is April 27th 11:30am Two Headed Giant Prerelease where you and a partner will work together to battle your opponents. That will be followed by an Afternoon Prerelease Event at 5:00pm. The first War of the Spark Prerelease Event you play in is $25 then any other War of the Spark Prerelease after that will be $5 dollars off. So come in and play for the first time what will soon to be the powerhouse of the Magic the Gathering world.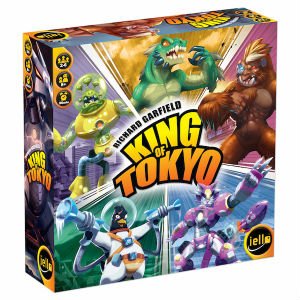 Join us Tuesday, April 30th at 7:00pm for a King of Tokyo: King of the Inn Challenge!


Come battle the competitors to see who is the master and reigns supreme at King of Tokyo at Gamer's Inn. You will compete to see if you can be the last standing monster and walk away with a amazing price - a character expansion for King of Tokyo. If all goes well and we have enough competitors we shall split up the challengers into groups and then have the winners of those groups battle to see who is the best monster. There will be a $3 entry fee for this event. With this game being our game of the month don't forget to pick it up King of Tokyo for a extra 5% off while the sale lasts.

Staff Picks


The Hero's Tale

Keyforge
With our D&D Adventurers' League's going on now on Wednesdays at 7:00pm and our love for all things D&D, do we have a good product for those who enjoy playing!

Alex, our employees who helps run all the wonderful D&D adventures that we play here at our store, recommends our collection of Spellbook cards. Whether you are a wizard, ranger, paladin, bard, druid, clerk or arcane these cards are sure to help your game in so many ways - helping you keep track of spells or abilities that your character can use. A must have for any D&D player, it will help you on your many adventures with your group of friends.
Join us on Thursday, April 25th at 7:00pm for the chance to get to try out a new Role Playing Game - The Hero's Tale!

The Hero's Tale was created by local game enthusiast Mark Hansen, who plays regularly at Gamer's Inn with a group of his family and friends. The Hero's Tale is a great simplified RPG system that all ages can enjoy and play.

Mark Hansen himself, will be there to help show off all that this great game has to offer.

Copies of The Hero's Tale are now available at Gamer's Inn for only $20.00.
Join us Monday, April 22nd for a KeyForge: Archon Event. In the Archon format, each player brings a deck to the tournament. This deck must be an official, unaltered KeyForge Archon Deck that the player either obtained ahead of time or bought at the event itself. We recommend that you come with a friend and show them how fun this new game can be that was created by Richard Garfield who has brought us games such as Magic the Gathering. It is sure not to disappoint.

There will be a $3 entry fee for this event. However, if you bring a friend to play, both of your entries will be free! Prizes will be awarded from a KeyForge Organized Play Kit.
Friday Night Magic

Manic Monday

Gamer's Inn Events

Come every Friday night for our Magic: the Gathering events. See below for times and formats.



April 26

th, 2019




7:00pm

- Free Standard




7:30pm

- $5 Chaos Draft

May 3rd, 2019
7:00pm - Free Modern
7:30pm - $20 Sealed War of the Spark Event

May 10th, 2019
7:00pm - Free Standard
7:30pm - $10 War of the Spark Draft

May 17th, 2019
7:00pm - Free Modern
7:30pm - $10 War of the Spark Draft


Join us Monday evenings for Dice Masters events. All events start at 7:00pm unless otherwise posted.



April 22nd, 2019
6:30pm - Transformers Constructed $5
7:00pm - Modern Dice Masters Constructed $2
7:00pm - KeyForge Archon: Bring a Friend -$3

April 29th, 2019
6:30pm - Transformers Double Header $3
6:30pm - Dice Masters Rainbow Draft Uncanny X-Men $12
7:00pm - Keyforge Archon: Do Your Worst $3

May 6th, 2019
6:30pm - Transformers TCG Constructed $5
7:00pm - Dice Masters: Golden Age Constructed $2
7:00pm - Keyforge Archon $5

Mark your calendars for our upcoming events at Game

r's

Inn

. Each of our Game Night starts at

7:00pm

and are free to participate in.

April 28th
No Commander today

April 30th - 7:00pm
King of Tokyo: King of the Inn Challenge Night - $3

X-Wing League - Free Play night

May 4th,2019 - 11:00am
Magic the Gathering War of the Spark Open house

May 7th, 2019 - 7:00pm
X-Wing Summer League Kick Off - Kessel Run - $3

May 14th, 2019 - 7:00pm


Mansions of Madness Demo Night



Thank you for making this store possible and for your patronage!




Copyright © 2017 Gamer's Inn, All rights reserved.

Contact us:
Website: gamersinnutah.com
Phone: 801-901-3104

Email: innkeeper@gamersinnlehi.com
Our mailing address is:
218 NW State Street, American Fork, UT, 84003