June 14th, 2019
There are a lot of new games at the store this week! We are excited to give you chance to preview them here before coming in and checking them out in person as they are all available now.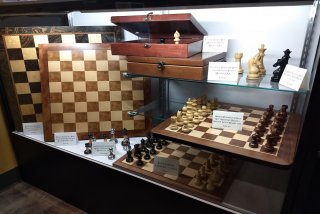 We would like to welcome several new Chess sets to our store. Very often, Chess is the first real game that you try as you are growing up. It is a game that you can learn to play at any age and it is a game that started some of us down the road to complex strategy. We now have beautiful Chess sets from Wood Expressions in our store and the quality that they bring to these game pieces is spectacular. They are made in the USA using
sustainable materials such as North American Maple, Oak, and Walnut hardwoods. They are beautiful pieces to play with and to display in your home and we hope that you will enjoy these pieces with us and come see them at our store!

Want to take to the Stars and live in the legend as you play as Bounty hunters,
mercenaries, and smugglers? This 1-4 player game, Star Wars Outer Rim, is one to check out.
In
Outer Rim
, you take on the role of an underworld denizen, setting out to make your mark on the galaxy. You'll travel the outer rim in your personal ship, hire legendary
Star Wars
characters to join your crew, and try to become the most famous (or infamous) outlaw in the galaxy!
As you take your turns you will take dangerous jobs, upgrade your ship and take down your bounties to gain fame. Collect enough fame by completing the tasks in the game and win. Simple as that or is it... every character will take a different route and start out from the very bottom its up to you to make it to the top with all your fame pieces to win the game.

The new Gloomhaven Forgotten Circles expansion is sure to be amazing! This is the first expansion for Gloomhaven featuring twenty new scenarios that take place after the events of the original Gloomhaven campaign which involve one new character class, the Aesther Diviner and her attempts to prevent an approaching calamity. D
elve into twenty new scenarios that take place after the events of the original Gloomhaven campaign.
The accompanyin
g scenario book
will break up all of the scenarios to create a much more dynamic and surprising encounters. This set will adding seven new monster types and is sure to be quiet the exciting adventure for those who love the Gloomhaven world.


X-Wing


Transformers War of Cybertron
Small World Challenge
X-Wing Summer League is still running and we are happy to have our next week be the format Quick build. It will be a free event on June 18th at 7:00pm.

Bring Quick Build Squad with total 8 Threat Level.

This will be continuing our events for the league that have been going several weeks now. We have been enjoying the different types of game play we our X-wing league from Unlikely Allies, Capture the Flag, Furball and Extended format Tournament it has been quiet a fun league. If you love X-Wing and want to try some new things out this is the League for you.

Make sure to get in your orders on the next expansion of the popular trading card game as it hits the US on June 28th, and after the Rise of the Combiners runaway success, War for Cybertron: Siege is the theme of wave 3.



Joining the fray will be Battle Masters and Micro Master cards. New characters will also be joining in on the fun this time, like Soundwave (finally!), Major Shockwave, and Major Ultra Magnus. Can't go wrong adding more character's to the game. We all have had a lot of fun with all the sets of Transformers and this new one is looking to be a great set. So make sure to come in and preorder your's today.

Come get your box for $105 and don't miss out on this awesome new set. Also join us for a release draft on Friday, June 28th at 8:00pm.
Join us on Tuesday, June 25th at 7:00pm for a Small World: It's My Small World After All Challenge!

Bring your "A" Game as you battle other competitors to see who can take control of Small World at Gamer's Inn! Players will go head to head to determine who will has the most moxy to control the land and to walk away with the prize of the evening - Expansion Pack #2 for Small World! If there are enough players, we will split into groups and then the winners of those groups will battle it out to see who is the winner.

There will be a $3.00 entry fee for this event.
Friday Night Magic



Manic Monday

Gamer's Inn Events

Come every Friday night for our Magic: the Gathering events. See below for times and formats.



June 14th, 2019


7:00pm - Free Modern




7:30pm - $10 War of the Spark Draft



June 21st, 2019


7:00pm - Free Standard




7:30pm - $10 War of the Spark Draft



June 28th, 2019


7:00pm - Free Modern


7:30pm - $10 War of the Spark Draft

July 5th, 2019
7:00pm - Free Standard
7:30pm - $10 War of the Spark



Join us Monday evenings for Dice Masters, Transformers TCG and KeyForge events. See below for times, formats and cost.



June 17th, 2019


6:3opm - Tranformers Turbo Draft $8




7:00pm - Dice Master Modern $2


7:00pm - Keyforge Archon Triad $5

June 24th, 2019
6:30pm - Transformers tcg $5
7:00pm - Dice Masters Lunch Money $2
7:00pm - Keyforge Sealed buy a deck $10



Mark your calendars for our upcoming events at Game

r's

Inn

. Each of our Game Night starts at

7:00pm

and are free to participate in.

June 20th, 2019
7:00pm - Paint Night with Caleb Ceran $25

June 25th, 2019
7:00pm - Small World - It's My Small World Afterall Challenge $3





Thank you for making this store possible and for your patronage!




Copyright © 2019 Gamer's Inn, All rights reserved.

Contact us:
Website: gamersinnutah.com
Phone: 801-901-3104

Email: innkeeper@gamersinnlehi.com
Our mailing address is:
218 NW State Street, American Fork, UT, 84003