August 23, 2019
SALUTATIONS, GAMERS!

Well well well, another magic release is upon us, and Gamer's Inn plans to celebrate!

Oh me too! How're you guys going to celebrate?

With a Commander Weekend, of course! No better way to do it, Newsletter Reader.

Wow! That sounds way more fun than what I was planning. Count me in, Gamer's Inn Employee!

You bet, Newsletter Reader. Make sure you read the details below!




Saturday, August 24
11:30 AM
Free Event

Commander Weekend will feature Commander variants, recommended by Magic's design studio, with achievement cards and bonus abilities for playing with one of the new Commander 2019 decks. Any player participating in the event will get an Achievement Card, which will offer you a promo pack to any player who completes th

e entire

list.



What's that bonus ability, you may ask? Well, any player who plays with one of the new Commander 2019 decks unaltered (all of which are wickedly amazing) can begin the game with up to three legendary creatures from that deck in their command zone. All three legendary creatures are treated as though they have the "Partner" ability ("Partner" allows players to have multiple commanders.) Each commander functions independently, ignoring how many times the other two commanders have been cast.

This is an excellent excuse to come buy a shiny new deck, lovingly go through your brand new cards, and shred your opponents to pieces with an excellent Commander 2019 deck. If you're old-fashioned and wanting to see if your decks can stand the might of the new 2019 set, come on down! The achievement cards which promise promo packs are for everyone! We're excited to see who comes out on top.
*Promo Packs available for completing achievement cards are limit one per person as supplies last*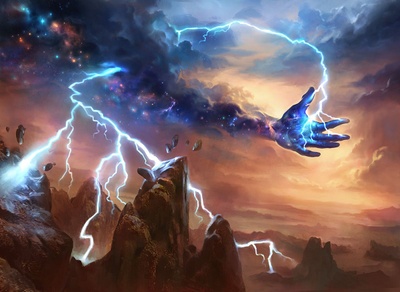 August 27th, 7:00pm
(Entry Fee: $10)

"To wield lightning is to tame chaos." - Lightning Strike Flavor Text

Join us for a fun, new format for draft! It's everything you enjoy about drafting, but at a quicker pace specifically designed to be playable during a week night. Drafting occurs as normal, but instead of doing rounds that are best of 3, each round is best of 1 and only last for 30 minutes. We will be drafting with Core 2020.

We look forward to seeing you there!








Theme Night: Hacked!
August 26, 6:30 PM
(Entry fee: $5)


---

Gamers, roll out for another Casual Constructed Event!

Just one problem: you've been HACKED! So, at the start of your match, you will choose one side of your Character Cards.
During the match, you cannot transform your Character Cards as they have been hacked to stay on one side.

You can use cards from any of the released sets in your decks.

Good luck!


---

Energon Invitational Qualifer
September 7th, 1:00 PM
(Entry Fee: $10)

---

Join us for a tournament to see whose Transformers reign supreme! This event will be a Constructed format with Swiss pairings. Rounds will be 50 minutes long and be best 2 out of 3.

Come and compete for prizes and a chance to qualify for the PAX Unplugged Energon Invitational!
Technology Networking Event
September 14, 7:00pm
Free

---

Calling all gamers who work in the technology industry! Gamer's Inn is hosting a Tech Networking and Games monthly meet up, and you're invited!

So, want to meet some people in your same field who love games as much as you do? Maybe play a few games, prove your prowess and possibly impress a future boss? Then you'll want to come to this event.

The schedule is as follows:
7:00pm - Meet, network, and share opportunities
7:30pm - Games, including MTG draft, Commander, board games, D&D... the possibilities are endless!

---

Paint Night with Caleb Ceran
September 19th, 7:00pm
(Entry Fee: $35 pre-event,
$40 at the door)

---

Need a fun idea for a date night? Here's a perfect idea: a Paint Night with Caleb Ceran! He's a wonderful local artist and an excellent teacher. Think you can't paint? Well, let us prove you wrong.

Caleb will be taking participants step by step through the process of creating a beautiful image on canvas.

There will be 12 available spots for this event and participants must be at least 12 years of age. You can register in store or online!

Sign up now while you can! All supplies are provided, including brushes, canvases, paints, and the artist.
Baldur's Gate:
Descent into Avernus Pre-Order
Releases September 17, 2019
$49.95

---

Are you ready to face demons and other infernal beings?
Or worse, ambitious politicians thirsting for power?
It's too late to turn back, adventurer.
Welcome to Baldur's Gate.

Pre-Order today to receive a limited-edition copy.

---

Adventurers' League
September 4th, 7:00pm
for character building
September 11th, 7:00pm
for campaigns

---

So! You've been hearing about this D&D thing and thinking to yourself, "I've always wanted to be a half-elf rogue/bard with a tragic backstory and a thirst for vengeance for my dead step-brother."

Well, now's your chance! Come join our upcoming season of Adventurers' League, built specially for new players. Arrive at 7:00pm on September 4th to get all the help you need in designing a new character, as well as how to play the game. Then, on September 11th at 7:00, you'll be assigned to a group of players just as new as you are!

Want to learn to DM? Rule the world as a malevolent god bent on destruction and shaping the story however you wish? Come to Adventurers' League! We're here to help you

kill your players

run your very own campaign!


Friday Night Magic



Manic Monday

Gamer's Inn Events

Come every Friday night for our Magic: the Gathering events. See below for times

and for

mats.



August 23rd, 2019




7:00pm

- Free Modern


7:30pm

- $10 Core 2020 Draft

August 30th

, 2019




7:00pm

- Free Standard


7:30pm

- $10 Core 2020 Draft

September 6

, 2019




7:00pm

- Free Modern


7:30pm

- $10 Core 2020 Draft

September 13, 2019


7:00pm - Free Standard


7:30pm - $10 Core 2020 Draft

September 20, 2019
7:00pm - Free Modern
7:30pm - $20 Modern Horizons Draft



Join us Monday evenings for Dice Masters, Transformers TCG and KeyForge events. See below for times, formats and cost.





August 26th, 2019




6:30pm - Transformers: Theme Night Hacked - $5



September 2nd, 2019
Store is open for Labor Day, but we aren't running any events.

September 9th, 2019
6:30pm - Transformers: Constructed - $5
7:00pm - Dice Masters: Golden Manic Monday - $2

September 16, 2019
6:30pm - Transformers: Pick Your Poison Draft - $8
6:30pm - Transformers TCG: Theme Night Singleton - $5
7:00pm - Keyforge Archon - $5



Mark your calendars for our upcoming events at Game

r's

Inn

. Each of our Game Night starts at

7:00pm

and are free to participate in.

Tuesday, August 27th
7:00pm - Core 2020 Lightning Draft $10
7:00pm - Star Wars X-Wing Night

Wednesday, August 28th


NO Adventurers' League.



Saturday, August 31st
1:00pm - Saturday Sealed Modern Horizons - $40

Saturday, September 7th
1:00pm - Transformers Energon Qualifiers - $10

Thursday, September 10th
7:00pm - Mystic Vale Demo Night


Thank you for making this store possible and for your patronage!




Copyright © 2019 Gamer's Inn, All rights reserved.

Contact us:
Website: gamersinnutah.com
Phone: 801-901-3104

Email: innkeeper@gamersinnlehi.com
Our mailing address is:
218 NW State Street, American Fork, UT, 84003