Skip Navigation
Website Accessibility
Gamer's Inn News: Nov 1, 2019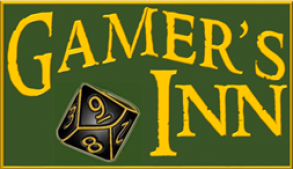 November 1, 2019
Gamers, Roll Out for Brawl League!
---
Fri, 11/1
Sat, 11/2
Mon, 11/4
Tues, 11/5
Wed, 11/6
Thurs, 11/7

Friday Night Magic:





7:00pm - MTG Standard,

free



7:30pm - Throne of Eldraine Draft, $10



11:30am - MTG Commander free

---

1:00pm -
Throne of Eldraine, Sealed, $20

---

2:00pm - MTG Standard, free

Manic Monday:

Dice Masters: Golden Theme Night, $3
7:00pm - MTG Pauper, free

---

7:00pm -

Throne of Eldraine
Brawl League, $10

---

7:00pm -

MTG Lightning Draft, $10

---

7:00pm -

X-Wing Night, free
7:00pm - D&D Adventurers' League: Character Creation Night, free

---

7:00pm - D&D Dungeon Master's Class, free
11:00am- MTG Commander, free

---

7:00pm -Painting Class - Minifigures, $3

---

7:00pm -Star Wars Destiny: Path to Prime, $5

Throne of Eldraine:
Brawl League
Begins Nov 5th, 7:00pm
(Entry fee: $10)


Those who participated in our Throne of Eldraine League can roll their decks into our Throne of Eldraine Brawl League!
If you thought the League was good, you haven't seen anything yet. With the new set of Throne of Eldraine, Brawl League
is sure to be a wild ride. Didn't participate in the League? No worries! You now have a new chance to play in a
Throne of Eldraine League that's just as fun (if not more so) as the regular League.
At the end of the League, prizes will be distributed.

Come show us what you got,
Magic players!

Sign up in-store or
click here to sign up online!

Dungeons & Dragons:
Adventurers' League
New season on Nov 6th, 7:00pm
with Character Creation Night
(Entry Fee: free)

So! You've been hearing about this D&D thing and thinking to yourself,
"I've always wanted to be a half-orc sometimes-drunk ranger with better things to do than go
adventuring but certain gambling debts mean that I have to get money somehow."
Well, now's your chance! Come join our upcoming season of Adventurers' League,
built specially for new players. We'll start off the new season by hosting a Character Creation Night.
Here, we'll teach you all about D&D mechanics and help you to design your very own character!
Want to learn to DM? Come to Adventurers' League! We'll teach you all the tips and tricks on running your own campaign!
We'll be more than happy to show you how to design your own campaign, write excellent NPCs, and manage unruly players.
Everything will be provided, including character sheets, pencils, dice, and a DM.
However, we encourage those who come to purchase their own pretty dice set from our vast selection.
We have lots to choose from, including miniature dice, metal dice, and more!

War for Cybertron: Siege II
Release Sealed Event on
November 8th, 8pm
(Entry fee: $20)
Roll out for the newest installation into the Cybertron trilogy, Siege II!

Gamer's Inn will be running a Release Sealed Event on opening night! Players will build their teams
from the five War for Cybertron II packs they'll receive during the event. If a player ends up with more than one character
with the same name, they may play all of them. Character Cards a player picked but aren't playing are set aside.

Please note that Battle Decks must have a minimum of 30 cards.
This means players can choose cards from the packs they opened and not include them in their deck.

Sign up in store or
click here to sign up online!








Star Wars: Destiny
Prime Championships
November 9th, 3:00pm
(Entry fee: $20)


---

"What do you believe in? The force?"
The Jedi sheathed his lightsaber, and looked at his padowan with a weary expression. "No. I believe in myself."

Turn on your light-sabers, and prepare to

join

fight the dark side, because the Star Wars Destiny Prime Championships are just one week away!

Through participating in our Prime Championship event, you can win a number of unique prizes, including game mats, tokens, and promotional cards! And how could we forget to mention that the winner of our Prime Championship event will also earn an invitation to the upcoming Star Wars: Destiny World Championship!

The Prime Championship will be in Standard format. So bring your best deck and may the force be with you!

To find out more about the Prime Championships, read this article from Fantasy Flight Games.

Sign up now in store or
click here to sign up online!

Throne of Eldraine:


Gift Bundle Pack


Releases Nov 15




($59.99 per pack)

---

Hey Magic Players!

You've probably been searching for that perfect gift for your magic-playing friends, and so far have come up empty. They have the playmats (though, if they don't, Gamer's Inn has a lovely playmat available for $10), cards galore, deck boxes, and way too many sleeves.

Well, your search is over! Because pre-orders are available now for the Throne of Eldraine Gift Bundle pack!

Inside this brand new set are an oversized spin-down counter, a Collecter Booster, 1 foil-art promo card, 10 Throne of Eldraine booster packs, 20 basic lands, and 20 foil basic lands.

If you've enjoyed the Throne of Eldraine set as much as the rest of us have, you'll definitely need to add this bundle pack to your collection.

There are only 10 available spots for pre-orders, so sign up quick!

Sign-ups are available in-store.

Transformers TCG:
War for Cybertron: Siege II
Draft on Nov 11th at 7:00pm
(Entry Fee: $18)

---

"As the battle reaches its crescendo in WAR FOR CYBERTRON: SIEGE II, the Autobots and Decepticons turn to desperate means to secure victory.

The Decepticons wake their most dangerous weapon... the mighty Titan, TRYPTICON!"

-Wizards Play Network

Gamers, roll out for the newest installation into the Cybertron trilogy!

In this brilliantly designed set, players can look forward to new characters such as Trypticon and Chromedome, as well as a new black icon that gives your Transformers more effective
firepower in the midst of battle.

We will be hosting a draft for this amazing new set. Rules and gameplay for this draft can be found on our website.

"I send this message to the surviving Autobots... We are here, we are waiting."
-Optimus Prime

Sign up in store or
click here to sign up online!








Grey Fox Games presents
Reavers of Midguard


Available in store for $69.99




---

"As Jarl of a Viking clan... Recruit savage reavers, mount powerful artifacts on your ship, set sail for open seas and distant shores and return with gold and glory for your clan!"


-Gray Fox Games



Reavers of Midguard is the sequel game to Champions of Midguard, set in the same universe. The goal of the game is claim the most Glory for your clan through worker placement and dice combat. Click here to learn more.

---

Grandpa Beck Games presents
Cover Your Kingdom
Available in store for $24.99

---

"Clash with Rival Rulers as you battle to persuade Clans of Punderful Magical Creatures to join your Kingdom.
This is no contest for the weak of heart (or thin of skin)."
-Grandpa Becks Games

Cover Your Kingdom is the newest Grandpa Becks' game! With other popular games such as Cover Your Assets and Skull King, their reputation precedes them. To learn more about this hilarious game, follow this link!

Heroes for Hire
November 25th, 7:00pm
(Entry Fee: $5)

---

"I found a map." Sia told her companions. "Unfinished, but it definitely leads to an ancient treasure. So. How about an old-fashioned quest?"

Vesryn, an elven warlock, sat back in his chair. "I'll come so you don't get lost."

Sia rolled her eyes and looked to Hill, a gnomish fighter. "What about you?"

"I'm coming so he doesn't get lost."

"I never get lost." Vesryn retorted.

Hill smirked and opened his mouth, and Vesryn quickly said, "That was one time. So, my dear Sia, where is this map of yours?"


In this Dungeons and Dragons event, you're provided a character and painted mini-figure to use for the evening, as well as a snack and a drink.



We are providing level five characters, so we recommend those who come

to have some knowledge of D&D game mechanics.



Sign up in store or
click here to sign up online!

Paint Night with Caleb Ceran
November 21st, 7:00pm
(Entry Fee: $25)

---

Have you ever wanted to do something, but you and your friends have been doing the "I don't know, what do you wanna do?" thing all week and you know that if you suggest you all hang out it'll be more of that?

Well, Newsletter Reader, I have the solution. How about coming home with a painting that you painted that's beautiful and full of fond memories?

"But wait!" You say. "I don't know how to paint anything!"

Have no fear, Newsletter Reader, because a local artist named Caleb Ceran will be coming to Gamer's Inn to teach you how to paint your very own canvas!

There are only 12 remaining spots, so sign up now while you can! All supplies are provided, including brushes, canvases, paints, and the artist (that would be you).

Participants must be at least 12 years old.

Sign up in store or
click here to sign up online!













Come every Friday night for our Magic: the Gathering events. See below for times and formats.

November 1st
7:00pm - Modern, free
7:30pm - Throne of Eldraine Draft, $10

November 8th
7:00pm - Standard, free
7:30pm - Throne of Eldraine Draft, $10

November 15th
7:00pm - Modern, free
7:30pm - Throne of Eldraine Draft, $10

November 22nd
7:00pm - Standard, free
7:30pm - Throne of Eldraine Draft, $10
Join us Monday evenings for Dice Masters and Transformers TCG events. See below for times, formats and cost.

November 4th
7:00pm - Dice Masters: Golden Theme Night, $3

November 11th
7:00pm - TCG: War for Cybertron Siege II Draft, $18

November 18th
7:00pm - Dice Masters: Modern Manic Monday, $3

November 25th
7:00pm - Transformers TCG: Constructed, $5
Mark your calendars for our upcoming events at Gamer's

Inn

.

Wednesday, Nov 6th
7:00pm - D&D: Adventurers' League: Character Creation Night, free
7:00pm - D&D: Dungeon Master Class, free

Friday, Nov 8th
8:00pm - TCG: War for Cybertron II Release Sealed Event, $20

Saturday, Nov 9th
3:00pm - Star Wars Destiny: Prime Championship, $20

Tuesday, Nov 12th
7:00pm - Dixit Demo Night, free

Thank you for making this store possible and for your patronage!

Copyright © 2019 Gamer's Inn, All rights reserved.

Contact us:
Website: gamersinnutah.com
Phone: 801-901-3104

Email: innkeeper@gamersinnlehi.com
Our mailing address is:
218 NW State Street #8, American Fork, UT, 84003