Skip Navigation
Website Accessibility
Gamer's Inn News: Nov 29, 2019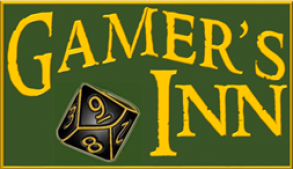 November 29, 2019
BLACK FRIDAY SALES!
---
Fri, 11/29
Sat, 11/30
Mon, 12/2
Tues, 12/3
Wed, 12/4
Thurs, 12/5
Friday Night Magic:

7:00pm - MTG Modern, free

7:30pm - Throne of Eldraine Draft, $10
11:30am - MTG Commander, free

---

1:00pm -
Core 2020 Sealed, $20


---

2:00pm - MTG Standard, free
Manic Monday:
Dice Masters: Golden Manic Monday, $3


---

7:00pm -
Casual Board Game Play, free

---

7:00pm - AsmoPlay Game Night, free
7:00pm - Game Demo Night: Cover Your Assets, free


---

7:00pm -
MTG Lightning Draft, $10

---

7:00pm -
X-Wing Night, free
7:00pm - D&D: Adventurers' League, free

---

7:00pm -
D&D: Dungeon Master's Class, free
7:00pm - MTG Commander, free


---

7:00pm - Minifigure Painting Class, $3


---

7:00pm - Star Wars Destiny: Casual Play, free

Available November 29th ONLY

While supplies last.


It's that time of year again... Christmas Shopping during the Black Friday Sales!
And Gamer's Inn has some amazing deals this holiday season.

Starting off the line up are our Black Friday Hoard Specials. Each Hoard Special is geared towards
helping you expand your collection of things you love; whether that be Dungeons & Dragons, Collectible Card Games,
Board Games or repping your favorite FLGS (friendly local game store) with some awesome swag.
Each of these deals are only available in store on Black Friday (Nov 29th), but click here to enjoy a preview!

Next, Select Titles Sales. Each item marked with a green sticker will receive a 25% discount.
Titles including but not limited to Quadropolis, Above and Below, and Dead of Winter: The Long Night will be among
the discounted items. All Select Titles will have a Green Sticker and discount will be automatically applied at checkout.

All of our Previously Played Games will be discounted by 30%. These games are marked by pink stickers,
and the discount will be automatically applied at checkout.

Finally, with any purchase of $50 or more, you'll become eligible to purchase one of our dice trays for 50% off.


Hope to see you here!
We're excited to announce new events starting in December!
Casual Board Game Nights
Monday nights, 7:00pm, free
Here,
you can either choose a game from our many demo games to play, or have one of our expert staff teach you
how to play a brand new game. All of our demo games are free for in-store play. We don't rent out board games
(they usually don't come back alive and unspoiled). Our selection of demos include over 50 different games for all different ages, groups, species, planets of origin, and supernatural beings!


AsmoPlay Game Night
The first and third Monday nights of the month, 7:00pm, free
See schedule below for more details.

These game nights will feature specific Asmodee games such as
Unlock!
and
L

ord of the Rings: Journey into Middle-Earth.

Each game night will showcase one game that the Gamer's Inn Staff will teach you. But wait, there's more!
For participating, you'll receive special promo items for the featured game! These can include alternate art cards,
expansion packs, and more! Follow this link to our website to see other Asmodee games.

Play with the Owners
The second and fourth Monday nights of the month, 7:00pm, free
See schedule below for details.

Have you ever wondered who're the masterminds behind Gamer's Inn?
Well, wonder no longer.
Each of our owners will be showcasing a favorite game of theirs and teaching you how to play it.
Come play a game with them and gain some wisdom on what its like to own a game store.
Game of the Month Demo Night
Tuesday Nights, 7:00pm, free
Every month we highlight a game as our "Game of the Month".
So, if you'd like to learn how to play our top game of the month, you're in luck! We'll be running
a game demo night every Tuesday where you can learn to play.









Cavalier of Night and
Exquisite Standard Event
December 7th, 1:00pm
(Entry fee: $5)

---

Hey Standard Players! Got a special event for you (and all the other magic players as well)!



First off, MTG Arena Sleeves for all! Because we're now a Premium store with Wizards of the Coast, we have the chance to run an exclusive event to give away Arena Codes for these beautiful Exquisite Sleeves. This is the only way to get these sleeves on Arena and is a great way to show off your love of brick-and-mortar stores and the Magic: The Gathering events they run.

Next, Promo Cards all around! For each match of the event, players will receive two promo cards.

Last but not least, remember when we ran a big enough event during Modern Horizons to earn a Cavalier of Night playmat? We do.
And this is the perfect opportunity for us to give it away! The winner of the event will receive this one of a kind playmat.

We look forward to seeing what decks you bring and to having a fun time playing Magic!

You're free to sign up in-store or
click here to sign up online!


Pioneer Events will begin December 6th.
See the FNM schedule for details.


---

Wot in Tarnation is Pioneer?

Glad you asked. Pioneer is a brand-new format that we'll be holding on every other Friday night starting in December.
Here's how it works:

Minimum of 60 cards in your deck

No maximum amount of cards, but you have to be able to shuffle them by yourself without assistance.

Up to 15 cards in your sideboard (if you use a sideboard).

And excepting basic lands, neither your deck or sideboard can have more than 4 copies of an individual card.

Pioneer includes all Standard sets that have been released since Return to Ravnica, as well as additional Modern sets, the full list of which can be found here. And as with any format, there are banned cards. The full list of banned cards can be found by following that same link.

We'll be running casual constructed Pioneer events on alternating Friday nights for Friday Night Magic (instead of Standard events) so be sure to mosey on by!

The holidays are upon us, Gamers!
Below are the times when the store will be open, and (if we're open) what events we'll be hosting that day.


---

Black Friday (Nov 29)
Store will be open 11am to 11pm.
7:00pm - FNM: Standard, free
7:30pm - Throne of Eldraine draft, $10

Christmas Eve (Dec 24)
Store will be open 11am to 4pm.
No events.

Christmas Day (Dec 25)
Store will be closed.
No events.

New Year's Eve (Dec 31)
Store will be open 11am to 4pm.
No events.

New Year's Day (Jan 1st)
Store will be open from 11am to 10pm.

We're very grateful to all of our wonderful employees, sponsors, and customers for a fantastic first year in our brand new location!

Farris considered his options. The monstrosity before him was entirely sugar. Not a very healthy dinner, but it was a holiday after all. He smiled as the monster roared. "Bon appetit."










Come play in one of our casual board game nights! If you don't know how to play one of our board games, we'll teach you!

---

Monday, Dec 2nd
7:00pm - Casual Board Game Play, free
7:00pm - AsmoPlay Game Night: Unlock!, free

Tuesday, Dec 3rd, 10th, and 17th
7:00pm - Game Demo Night: Cover Your Assets, free

Monday, Dec 9th
7:00pm - Casual Board Game Play, free
7:00pm - Play with the Owners: Shadowrun Crossfire, free

Monday, Dec 16th
7:00pm - Casual Board Game Play, free
7:00pm - AsmoPlay Game Night: Journeys to Middle-Earth, free

Monday, Dec 23
7:00pm - Casual Board Game Play, free
7:00pm - Play with the Owners: Power Grid, free

Monday, Dec 30
7:00pm - Casual Board Game Play, free


Holiday Donations
Collection boxes will be available in store for non-perishable food, toys, and blankets starting Thanksgiving Week.

---

"Beyond getting excited about all of the fun gifts I will be receiving, Christmas is one of my favorite times of year because it provides additional reminders to be kind and giving toward others.





This year, we are excited to be partnering with the Salvation Army to give to those around us who find themselves in need of a little bit of extra cheer and help.





We will have collection boxes set up in store starting the week of Thanksgiving and ask that you and your family take a moment to bring in something that you can share to help bolster our community.





Donations can include any non-perishable food, new unwrapped toys, or new/gently used blankets or coats. The donations will be picked up mid December.





We thank you for your kindness and generosity and wish you and yours a joyful holiday season."



-From the Gamer's Inn

Paint with Caleb
December 19th, 7:00pm
(Entry Fee: $25)

---

This Christmas, consider giving someone the gift of an experience. Sure, you could play a variety of board games for free at Gamer's Inn, but what if you want something different for Christmas?

Good news. We do more than just play board games here. We do tons of events, including a paint night with a local artist every third Thursday of the month!

Caleb Ceran will teach you how to paint and at the end of the night, you go home with a beautiful canvas (painted by you!), fond memories, and some new friends!

There are only 12 remaining spots, so sign up now while you can! All supplies are provided, including brushes, canvases, paints, and the artist
(that would be you).

Participants must be at least 12 years old.

Sign up in store or
click here to sign up online!














Come every Friday night for our Magic: the Gathering events. See below for times and formats.

November 29th
7:00pm - Modern, free
7:30pm - Throne of Eldraine Draft, $10

December 6th
7:00pm - Pioneer, free
7:30pm - Throne of Eldraine Draft, $10

December 13th
7:00pm - Modern, free
7:30pm - Throne of Eldraine Draft, $10

December 21st
7:00pm - Pioneer, free
7:30pm - Throne of Eldraine Draft, $10
Join us Monday evenings for Dice Masters and Transformers TCG events. See below for times, formats and cost.

December 2nd
7:00pm - Dice Masters: Golden Manic Monday, $3

December 9th
7:00pm - TCG: War for Cybertron Siege II Turbo Draft, $8

December 16th
7:00pm - Dice Masters: Modern Theme Night, $3

December 23rd
7:00pm - Transformers TCG: Constructed, $5
Mark your calendars for our upcoming events at Gamer's

Inn

. Each of our Game Night starts at

7:00pm

and are free to participate in.

Saturday, Dec 7th
1:00PM - Cavalier of Night and Exquisite Standard Event, $5

6:00pm - Modern Horizons Sealed, $40

Saturday, Dec 14th
5:00pm - D&D: Dungeon Master Class, free

Thursday, Dec 19th
7:00pm - Paint with Caleb, $25

Monday, Dec 23
7:00pm - D&D: Heroes for Hire, $5
Thank you for making this store possible and for your patronage!

Copyright © 2019 Gamer's Inn, All rights reserved.

Contact us:
Website: gamersinnutah.com
Phone: 801-901-3104

Email: innkeeper@gamersinnlehi.com
Our mailing address is:
218 NW State Street #8, American Fork, UT, 84003