Skip Navigation
Website Accessibility
Gamer's Inn News: Jul 24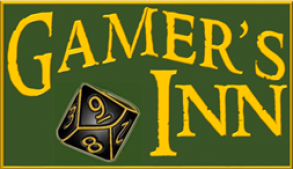 July 24th, 2020
Happy Pioneer Day!



A game for those who love pushing their luck
and exploring dungeons with their buddies.

Price: $59.99


If you liked Munchkin or any of its other versions, then Munchkin Dungeon is definitely one to add to your game collection. You push your luck as you venture further and further into the dungeon, facing scarier monsters the deeper you go. But watch your back! Friends may become foes if the price is right.

Want to learn more? Click here!

Fri, 7/24
Sat, 7/25
Mon, 7/27
Tues, 7/28
Wed, 7/29
Thurs, 7/30

6:00pm - Store will be closing early.

11:30am - MTG Commander, free


No Events

6:30pm -
X-Wing Night, free
6:00pm - Transformers TCG Night, free
6:30pm- MTG Commander, free

Mysterium
Price: $54.99



In

Mysterium

,

one player takes the role of ghost while everyone else represents a medium. To solve the crime, the ghost must first recall (with the aid of the mediums) all of the details of the crime using an assortment of clues, suspects, murder weapons, and more. Can you help the ghost solve their murder and finally rest?



Click here for more information.




Price: $345.00





Wizards is making fetch happen in a big way. Welcome to the Secret Lair Ultimate Edition, where you can get five of the most highly sought after lands in all of Magic.



And, if you buy a booster box, you can get $100 off of your Secret Lair Ultimate purchase! But, if you don't feel like buying a booster box, not to worry. If you purchase a Secret Lair Ultimate Edition box full price, we'll throw in a Japanese Ikoria booster box.* Either way, you benefit--and you get a booster box!

Get your own Secret Lair Ultimate Edition Box here!

Click here for the announcement from Wizards.



*While supplies last.
Thank you for making this store possible and for your patronage!

Copyright © 2020 Gamer's Inn, All rights reserved.

Contact us:
Website: gamersinnutah.com
Phone: 801-901-3104

Email: info@gamersinnutah.com
Our mailing address is:
218 N. West State Street #8, American Fork, UT, 84003