Skip Navigation
Website Accessibility
Gamer's Inn News: Aug 8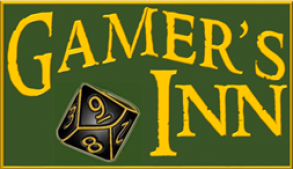 August 7th, 2020
Double the Games, Double the Fun!

Double Masters
VIP Edition Booster Packs
Price: $94.99 per pack


Each pack comes with 35 cards, including two showcase cards, two foil rares or mythics, and more!

Preorder today!

Available for pickup on August 7th.
Double Masters Booster Packs
Price: $12.50 per pack

While we aren't selling full boxes of Double Masters, we are selling the packs! This set in particular has many of the most powerful cards in Magic, including:
Atraxa, Praetors' Voice,
Doubling Season,
Kaalia of the Vast,
and more!

Check out the full card list here!


A game for those who love co-operation
and defeating evil tyranny.



Price: $99.99



The Reckoners is a simultaneous, co-operative game for 1-6 players. You win by defeating Steelheart, the tyrant controlling your city. First, however, you have to discover how to kill him, and that's no easy feat. Meanwhile, you and your team have to defend your city from other baddies trying to destroy it. If the city falls, you lose!



Read more about the game here!

Fri, 7/8
Sat, 7/9
Mon, 7/11
Tues, 7/12
Wed, 7/13
Thurs, 7/14

7:30pm - FNM: Double Masters Draft, $40

11:30am - MTG Commander, free


No Events

6:30pm -
X-Wing Night, free
6:00pm - Transformers TCG Night, free
6:30pm- MTG Commander, free

Betrayal at Mystery Mansion

Price: $35.00

Ride along with the Scooby-Doo gang as they explore a mysterious mansion! Created for ages 8 and older.

Search for more info on this game!


One of the first board games in recorded human history was Senet, played in ancient Egypt. Dating to around 3100 BCE, Senet was a game of chance, and was often placed in Egyptian tombs to give the deceased some good luck in the afterlife.

However, almost every culture we know of have designed their own board games. For example, Roman soldiers would play "knucklebones", a gambling game, while waiting for battle.

If you're wondering, Chess (a very old strategy game) was likely invented in India in the 6th century, although its hard to know for sure.


For those who loved (or had a hate-love relationship with) the video game, or those who love a satisfying,
long-term, possibly fatal board game.

Price: $120


Based on the classic video game series Dark Souls, this board game is full of endless amounts of lore and strategy. It can play anywhere from 1 to 4 players, and just like the video game, it's easier with more players. The bosses are tough, the art is beautifully horrifying, and it stays true to the lore of Lordran.

Praise the sun and read more here!

Thank you for making this store possible and for your patronage!

Copyright © 2020 Gamer's Inn, All rights reserved.

Contact us:
Website: gamersinnutah.com
Phone: 801-901-3104

Email: info@gamersinnutah.com
Our mailing address is:
218 N. West State Street #8, American Fork, UT, 84003