Skip Navigation
Website Accessibility
Gamer's Inn News: Aug 28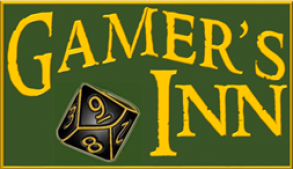 August 28th, 2020
Some Games Involve Some Math



For those who like simple strategy games.

Price: $30.00


"In Topiary, players try to position their visitors on the outer edge of a beautiful topiary garden in order to give them the best view possible. Visitors can see the closest topiary sculpture to them and any behind that, in the same sight line, that are larger. Players slowly fill in the garden by adding tiles until everyone has placed all their visitors."

Curious to learn more? Click here!

Fri, 8/28
Sat, 8/29
Mon, 8/31
Tues, 9/1
Wed, 9/2
Thurs, 9/3

7:30pm - FNM: Core 2021 Draft, $10

11:30am - MTG Commander, free


No Events

6:30pm -
X-Wing Night, free

No Events

6:30pm- MTG Commander, free



Price: $35.00

The castle is being invaded! You, along with the other players, must work to defend your home from orcs, goblins, and other horrid monsters. You'll win and lose with the other players, but if you slay the most enemies you'll be declared the Master Slayer (and win the game!).

Click here to learn more about this game!




One of the more popular children's games at Gamer's Inn is Spot It!. We have many options in the store, including Harry Potter Spot It, Frozen II Spot It, and Animals Spot It. It's a very simple game: there are 55 cards, and if you pull any two cards, they're guaranteed to have a symbol that matches. There are different ways to play, but they all revolve around that basic concept: find the matching symbol.





But think about that: any two cards--no matter which two cards you draw--are guaranteed to have at least one matching symbol. The question is how. And, as it turns out, this simple game has some very complex math behind it, as well as some interesting history.





You see, back in 1850, computers were not a thing. However, there were (believe it or not) people out there curious about abstract math. One such person was Reverend Thomas Kirkman, who submitted a mathematical puzzle to a popular magazine. The puzzle, called "The Fifteen Schoolgirls", involved a type of math called combinatorics, or how objects combine under certain specifications.



How does this apply to Spot It, you ask? Well, in 1976 a game hobbyist named Jacques Cottereau found the "Fifteen Schoolgirls" problem and solution to be quite interesting, and wanted a way to make it fun for everyone. So he designed a game called "A Game of Insects". But he never marketed it, and it wasn't until 2009 when a relative of his revamped the game into "Dobble", and began selling it in France and Germany. It was later released in North America as Spot it!

If you want to read more about the math and history behind this popular children's game, click here.
Prerelease Kits
Available on Sept 18
Preorder now for $25
Regular Booster Boxes
Available Sept 25th
Preorder in store now for $105

Collector Booster Boxes
Available Sept 25th


Preorder in store now for $230



Set Booster Boxes
Available Sept 25th


Preorder now for $140




Hold your own prerelease




event or attend ours!



Preorder here.


The perfect way to hold




your own draft.



Preorder here online ($115).

The shiniest and rarest




cards in the set.



Preorder here online ($240).
A brand new way to
experience Magic.

Preorder here.