Skip Navigation
Website Accessibility
Gamer's Inn News: Nov 6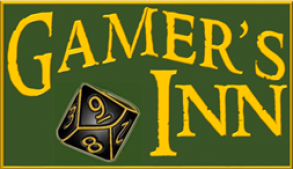 November 7th, 2020
No, It's Not Christmas Yet

Gravwell:
Escape from the 9th Dimension

Price: $35.00


You've been caught in a black hole! Worse, your enemies are also in the black hole--and they're in your way. Use whatever means at your disposal to escape before you're crushed to death!

This is our game of the month, which means you'll get an extra 5% off this game all month long!

Get your own copy here!

Fri, 11/6
Sat, 11/7
Mon, 11/9
Tues, 11/10
Wed, 11/11
Thurs, 11/12

7:30pm - FNM: Zendikar Rising Draft, $10

11:30am - MTG Commander, free


---

2:00pm - MTG Standard, free

No Events

6:30pm -
X-Wing Night, free

No Events

6:30pm- MTG Commander, free

Splendor: Marvel Edition

Price: $49.99

Fans of Splendor and Marvel are sure to enjoy this one! It's a unique twist on the classic game.

Click here to get your own copy!
Coming Soon! Releases on November 17th.
Regular Booster Boxes




Price: $120


Available on November 20th

Each booster pack has 20 cards, including two legendary creatures, at least one rare, and one foil card. Definitely worth getting a box.

Preorder here!

Collectors' Booster Boxes
Price: $230
Available on November 20th

Wizards has done a new type of foil card called "foil-etched". Each collectors' booster pack comes with at least two of these beauties!


kkkkkkkkkkkkkkkkkkkkkkkkkkkkkkk


Preorder here!


The buy-a-box promo for both of these boxes is Mana Confluence.
Thank you for making this store possible and for your patronage!

Copyright © 2020 Gamer's Inn, All rights reserved.

Contact us:
Website: gamersinnutah.com
Phone: 801-901-3104

Email: info@gamersinnutah.com
Our mailing address is:
218 N. West State Street #8, American Fork, UT, 84003