Skip Navigation
Website Accessibility
Gamer's Inn News: February 25th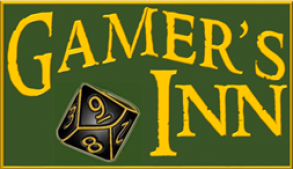 February 25th, 2022

Kamigawa: Neon Dynasty
Game Day Tomorrow!




For friends and family alike, it's a world of (s)laughter after all!

Price: $49.99


Small World is inhabited by a zany cast of characters such as dwarves, wizards, amazons, giants, orcs and even humans; who use their troops to occupy territory and conquer adjacent lands in order to push the other groups off the face of the earth.

Read more about this game here!

Fri, 2/25
Sat, 2/26
Mon, 2/28
Tues, 3/1
Wed, 3/2
Thurs, 3/3
7:30pm - FNM: Kamigawa: Neon Dynasty Draft,
$10
11:30am - MTG Commander, free


---

2:00pm -
Kamigawa: Neon Dynasty BRAWL Event


2-Player, free




---

6:30pm - Paint Night with Caleb - $25

No Events

6:30 pm -
X-Wing Night, free


---

7:00pm - Flesh & Blood, free
7:00 pm -
D&D Encounters
6:30pm-
MTG Commander, free


Price: $59.99

Explore this co-operative frenzy and take down Tai Lung and other villains from the Kung Fu Panda Movies, together!

Click Here to Learn More!

Jump into Super Mario™ Labyrinth!

|Price: $34.99 |


Mario, Luigi, Yoshi, Princess Peach, Bowser, Donkey Kong, and other popular Super Mario characters are lost in a maze!

On your turn, you'll shift the maze and move along the path, trying to get to the characters on your cards while blocking your opponents.

Be the first to find all your characters and make it back to your starting place to win!

Available in-store Only

Thank you for making this store possible and for your patronage!

Copyright © 2021 Gamer's Inn, All rights reserved.

Contact us:
Website: www.gamersinn.com
Phone: 801-901-3104

Email: info@gamersinnutah.com
Our mailing address is:
218 N. West State Street #8, American Fork, UT, 84003