Skip Navigation
Website Accessibility
Gamer's Inn News: April 15th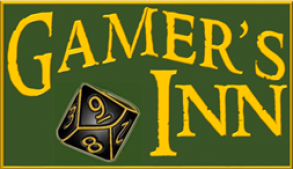 April 15th, 2022
MTG: Streets of New Capenna
Pre-Release Next Week!


Fri, 4/15
Sat, 4/16
Mon, 4/18
Tues, 4/19
Wed, 4/20
Thurs, 4/21
7:30pm - FNM: Kamigawa: Neon Dynasty Draft, $12
11:30am - MTG Commander, free


---

2:00pm - MTG Standard, free

No Events

6:30 pm -
X-Wing Night, free


---

7:00pm - Flesh & Blood

7:00 pm -
D&D Encounters
6:30pm- MTG Commander, free


|Price: $39.99|

Use tools-of-the-trade and careful planning to construct a stained glass window masterpiece!

Click Here to Learn More!



Choose your path though a strange house and hope it doesn't end in death...



Discover a thrilling adventure investigating criminal activity and a dark history in your town. Haunted by the mystery of the missing owner of the Marsden mansion, you decide to take the case on yourself. With your psychic senses and skills as a detective, you're confident you can solve it.



Click Here to Learn More!
Thank you for making this store possible and for your patronage!

Copyright © 2021 Gamer's Inn, All rights reserved.

Contact us:
Website: www.gamersinn.com
Phone: 801-901-3104

Email: info@gamersinnutah.com
Our mailing address is:
218 N. West State Street #8, American Fork, UT, 84003