Skip Navigation
Website Accessibility
Gamer's Inn News: May 13th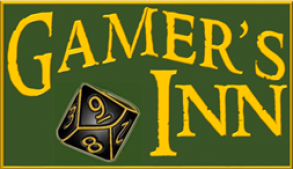 May 13th, 2022
Join us for the
Streets of New Capenna
Brawl Event!



The ultimate family party game, unstoppable laughter guaranteed!

Price: $28.00


A three-round innovative take on charades! Pick a card from the bag, and have the group guess without using the word. Next, describe another card with one word. The third round, no words at all!

Fri, 5/13
Sat, 5/14
Mon, 5/16
Tues, 5/17
Wed, 5/18
Thurs, 5/19
7:30pm - FNM: Streets of New Capenna,
Draft, $12
11:30am - MTG Commander, free


---

2:00pm - MTG Standard, free

No Events

6:30 pm -
X-Wing Night, free


---

7:00pm - Flesh & Blood

7:00 pm -
D&D Encounters
6:30pm- MTG Commander, free





Carefully cultivate a bamboo garden with the help of a gardener and a hungry panda.



Price: $44.95


A long time ago at the Japanese Imperial court, the Chinese Emperor offered a giant panda bear as a symbol of peace to the Japanese Emperor.
Since then, the Japanese Emperor has entrusted his court members (the players) with the difficult task of caring for the animal by tending to his bamboo garden.

Read more about this game here!
;



Thank you for making this store possible and for your patronage!

Copyright © 2022 Gamer's Inn, All rights reserved.

Contact us:
Website: www.gamersinn.com
Phone: 801-901-3104

Email: info@gamersinn.com
Our mailing address is:
218 N. West State Street #8, American Fork, UT, 84003