Skip Navigation
Website Accessibility
Gamer's Inn News: July 29th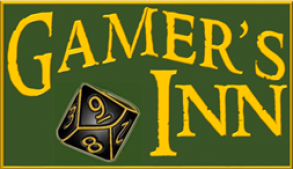 July 29, 2022
Take to the High Seas - Play Skull King!



Every hand can be a winning hand... if you play your cards right!

Price: $16.99


With a "Yo Ho Ho," players simultaneously bid how many tricks they will win.
Scheme to make sure you win exactly how many you bid.
You'll enjoy the depth of this game with the Trump cards,
Pirate cards, Escape cards, and the special Tigress and Skull King cards.
Easy to learn, but it involves keen strategy and intriguing scoring options.

Fri, 7/22
Sat, 7/23
Mon, 7/25
Tues, 7/26
Wed, 7/27
Thurs, 7/28

7:30pm -


FNM: Streets of New Capenna Draft, $12




11:30am - MTG Commander,

free




---

2:00pm - MTG Standard,

free




7:00pm - Board Game Night, free
6:30 pm -
X-Wing Night, free


---

7:00pm - Flesh & Blood, free
7:00 pm -
D&D Encounters, free
6:30pm- MTG Commander, free



Price: $16.99

Discover a thrilling adventure investigating criminal activity and a dark history in your town. What will YOU choose?

Click here to learn more!



Shape the medieval landscape of France, claiming cities, monasteries and farms



Price: $49.99

Celebrate 20 years of Carcassonne with this special edition of the classic tile-placement game featuring upgraded visuals, extra tiles, and enhanced gameplay.
Players will build the board as they play, creating the landscape of medieval Carcassonne filled with cities, roads, monasteries, and fields.

Read more about this game here!

Thank you for making this store possible and for your patronage!

Copyright © 2022 Gamer's Inn, All rights reserved.

Contact us:
Website: www.gamersinn.com
Phone: 801-901-3104

Email: info@gamersinn.com
Our mailing address is:
218 N. West State Street #8, American Fork, UT, 84003